Veronica Mayer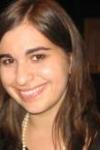 M.A., Columbia University, Modern European Studies
B.A., The University of Chicago, Fundamentals: Issues and Texts; English
---
Veronica is writing a thesis on how nineteenth-century Peninsular Spanish literature, in response to rapid modernization, represents crime and punishment.
More broadly, she studies and compares the cultures (literary, philosophical, musical, visual, political) of Spain, France, Britain, and Hispanic America.
At U. Chicago, she explored the connections between morality and romantic love in the Great Books, and, at Columbia, the effect of the Battle of Trafalgar on the developing nationalisms of Great Britain and Spain as seen in literature.