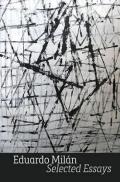 Edited by Antonio Ochoa, with an introduction by William Rowe.
Translated from Spanish by Leslie Harkema, Ruth Hemus, David Nielsen & Antonio Ochoa.
Eduardo Milán (Rivera, Uruguay, 1952) graduated with a degree in literature from the Universidad de la República Oriental del Uruguay. For political reasons he went into exile in 1979, and has lived in Mexico ever since. He was a member of the editorial board of Vuelta, edited by Octavio Paz, and has published over thirty books of poems in several Spanish-speaking countries. A selection of his poems translated into English was published by Shearsman Books. With over ten volumes of essays, and constant appearances in reviews, serial publications, and supplements, he has become one of the most compelling and incisive critics and essayists in the Spanish-speaking world.
Shearsman Books | May 2016 | ISBN:978-1-84861-474-1