Gaëlle Le Calvez House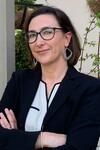 Associate Research Scholar; ACLS Emerging Voices Fellow
Ph.D in Hispanic Literatures & Cultural Studies, Indiana University (2021)
Gaëlle Le Calvez House is a writer, an editor and a literary scholar. Her primary research addresses two main topics: late-twentieth and twenty-first-century transnational movements and contemporary forms of writing. Her work has received funding from the College of Arts and Humanities Institute, the Center for Latin American and Caribbean Studies, and she was a 2019-2020 Indiana University College of Arts and Sciences Dissertation Fellow. She also received the Tinker Field, Research Grant. 
Her current book project Writing Antagonism: Exploring the Fissures of Hegemony in Mexico 1994-2020 explores the intersections between writing and politics in contemporary Mexico. She theorizes the concept of 'antagonistic writing' as a form of writing that challenges the State's dominant discourses and cultural institutions. She analyzes works that antagonize and disrupt an established order—political, cultural, or literary. First, she examines the political statements from the Zapatista movement, which emerged in 1994 in Chiapas, Mexico. Second, she analyzes the work of the experimental novelist Cristina Rivera Garza, who portrays the effects of violence after Felipe Calderón's declaration of the War on Drugs in 2006. The Zapatista and Rivera Garza's texts are works that create political and literary manifestoes from the absence (of the face, history, and gender) while simultaneously denouncing new forms of violence.
Research Interest
20th/21st-century Mexican, Latina/o/x Literatures and Culture, Feminism, Political Philosophy, Critical Theory, Diaspora and Motherhood Studies, Creative Writing, Visual Culture, Journalism.
Selected Publications
2021. "Yo es otra" Letras Libres, no. 273, Sept. 2021, s/p.
https://www.letraslibres.com/mexico/revista/yo-es-otra
2021. "Queer, nómada, inconoclasta" Letras Libres, no. 269, May. 2021, s/p.
https://www.letraslibres.com/mexico/revista/queer-nomada-iconoclasta
2020. "El siglo XXI será femenino" Letras Libres, no. 253, Jan. 2020, s/p.
https://www.letraslibres.com/mexico/revista/el-siglo-xxi-sera-femenino
2019. "Las posibilidades de la Primera Persona" Letras Libres, no. 243, March 2019, s/p. https://www.letraslibres.com/mexico/revista/las-posibilidades-la-primera-persona
2017. "Toda mierda es sagrada" Letras Libres, no. 226, Oct. 2017, pp. 59-61.
https://www.letraslibres.com/mexico/revista/toda-mierda-es-sagrada
2017. "Escritura sin rostro como estrategia subversiva del zapatismo." Revista de Literatura Mexicana Contemporánea, vol. 72, 2017, pp.89-101.