Leslie Harkema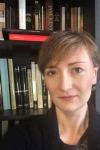 Associate Professor of Spanish
Ph.D. Boston University (2012)
---
Areas of interest: the literatures and cultures of modern Iberia, 18th-20th centuries; global modernism; literary responses to religious, political, and scientific discourse; theory and practice of literary translation.
Professor Harkema's first book, "Spanish Modernism and the Poetics of Youth: From Miguel de Unamuno to La Joven Literatura" (University of Toronto Press, 2017), examines the little-studied relationship between the renowned essayist, novelist, and poet Miguel de Unamuno and several Spanish writers associated with the so-called Generation of 1927, focusing on youth as a central concept in their aesthetic thought and self-fashioning. The poetic tradition that binds these writers together—traced through Unamuno's early poetry, the edition of his essays by the Residencia de Estudiantes, the 1927 homage to the Golden-Age poet Luis de Góngora organized by the younger writers, and the appropriation of Unamuno's ideas by both right-wing and leftist writers in the late 1920s and early 1930s—brings to light the central role that the twentieth century's reimagining of adolescence and youth played in the development of literary modernism in Spain.
She is currently working on a second book-length project, tentatively titled "Faithful Betrayals: Translation and the Republic of Letters in Modern Spain." In this project, Professor Harkema asks how the multilingual character of the Iberian Peninsula has shaped the Spanish literary sphere since the late eighteenth century. To what extent did Iberian multilingualism, underscored by the renaissance of Catalan, Galician, and Basque cultures in the nineteenth century, lead modern Spanish writers to reconceive or re-map literary space? How did intranational linguistic diversity shape Iberian theories and practices of translation? Considering these questions alongside the influence of republicanism and federalism in modern Spanish politics, the study proposes that thinking about translation allowed Iberian writers to reimagine the makeup and boundaries of the Spanish nation and its intellectual community.
Courses:
SPAN 246, "Introduction to the Cultures of Spain"
SPAN 262, "Studies in Spanish Literature II"
SPAN 309, "Science and Religion in Modern Spanish Narrative"
SPAN 322, "The Many Faces of Miguel de Unamuno"
SPAN 700, "Contemporary Issues in Iberian and Latin American Studies"
SPAN 720, "The Aesthetics of Youth in the Spanish Silver Age"
Selected Publications:
"Translation, Gender, and the Republic of Letters in José de Cadalso's Los eruditos a la violeta and Its Suplemento." Forthcoming in Bulletin of Spanish Studies.
"Teaching the Multi-Faceted Unamuno in a Semester-Long, Undergraduate Course." In Approaches to Teaching the Works of Miguel de Unamuno, edited by Luis Álvarez Castro. Modern Language Association. Forthcoming, 2018.
"Massachusetts Reviews: Uncertain Glory." Review of Joan Sales, Uncertain Glory. Translated by Peter Bush (New York: NYRB Classics, 2017). The Massachusetts Review Blog. 22 December 2017. https://www.massreview.org/node/901
"Empire, Emotion, and Ethics: Reading the Fin-de-Siècle Essay on National Identity." Review of Javier Krauel, Imperial Emotions: Cultural Responses to Myths of Empire in Fin-de-Siècle Spain (Liverpool, UK: Liverpool UP, 2013). Confluencia 30.1 (2014): 216-18.
"Escritura adolescente y anti-textualidad: Nuevo Mundo de Miguel de Unamuno." Anales de la Literatura Española Contemporánea 39.1 (2014): 33-59.
Translations:
"An Essay on Poetry"; "To Write About Writing Poetry"; "Parra and Concrete Poetry." Translations of Eduardo Milán, "Un ensayo sobre poesía"; "Escribir sobre escribir poesía"; "Parra y la poesía concreta." In Eduardo Milán: Selected Essays. Edited by Antonio Ochoa. Bristol, UK: Shearsman Books, 2016.
Miguel de Unamuno, "Poetic Creed" and "The Cathedral of Barcelona." Image 65 (2010): 22-26.
Miguel de Unamuno, "Salamanca." Literary Imagination 11 (2009): 77-79.