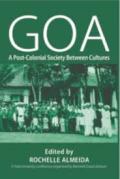 Goa: A Post-Colonial Society between Cultures
A Yale University conference organized by Professor Kenneth David Jackson
Edited by Rochelle Almeida
For centuries Goa, a region in western India on the Arabian Sea, was the administrative center of a Portuguese empire that extended west to Africa and east to Malaysia, China and Japan.  This volume adds to our understanding of the arts, peoples, languages and cultures that made Goa one of the first global entrepôts, a focal point and center of diverse world cultures, situated between cultures and thus anticipating today's global, multicultural and multilingual urban centers. 
Yale in 2016 hosted Goa: A Post-Colonial Society between Cultures, planned by Dr. Kenneth David Jackson of Yale's Department of Spanish and Portuguese and sponsored by the Department and Yale's Council on Latin American and Iberian Studies, in conjunction with the South Asian Studies Council at Yale. International scholars and creative artists gathered to debate and discuss the position of contemporary Goa in light of its historically diverse cultural influences.  The conference sought to draw attention to Goa's contribution to Indian and South Asian studies, and to place the former Portuguese empire in the context of contemporary debates on postcoloniality.
This volume is an anthology of presentations made at the conference as well as a collection of essays by scholars whose research interests and fields of specialization embrace similar areas of interdisciplinary inquiry. Edited by Dr. Rochelle Almeida, this volume represents a significant commentary on Goa today. Encompassing polylingual controversies, raging political debates, creative writing, the impact of modernist cinema as well as intellectual discourse on the lingering influences of four-and-a-half centuries of Portuguese colonial rule, these essays will serve scholars as much as they will more general readers who might seek informed opinion on Goa and its future.