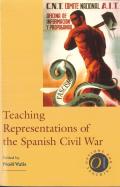 Edited by Noël Valis
The Spanish Civil War (1936-39), a national conflict with international significance, inspired strong responses from artists and writers on both sides of the Atlantic. The bombing of the Basque town Guernica, the assassination of the poet Federíco García Lorca, and the defense of Madrid are just some of the events represented in painting, film, fiction, memoir, and history produced during the war years and since.
Courses dealing with the Spanish Civil War are given regularly in literature, foreign language, and history departments, in English and Spanish. This volume in the MLA series Options for Teaching helps instructors plan courses that exploit the interdisciplinary, multigeneric opportunities present in the period's aesthetic output.
In thirty-five essays, contributors negotiate the complex relation between art and history in depictions of the war and its aftermath, exploring how memory is shaped.  Key representations of the war, like Picasso's Guernica, Hemingway's For Whom the Bell Tolls, Orwell's Homage to Catalonia, Rodoreda's La placa del Diamant, Sender's Réquiem por un campesino español, and Capa's Falling Militiaman, find a place in this wide-ranging volume. In addition, coverage extends to less frequently taught works by Catalan, German, Irish, and Latin American novelists, poets, and visual artists. The volume concludes with a section of resources for further study and classroom use, including films, music, photography, Web sites, and course syllabi.
May 2007 | ISBN: 978-0-87352-824-5