"Black/Early/Peninsular" with Nicholas R. Jones (UC Davis), Scholar-in-Residence (Yale Dept. of Spanish and Portuguese)
Jones' residency will chart and uncover the conception, legacy, and porousness of Iberian Blackness—archival, performative, visual, otherwise—across time.
November 11 & 16 | 4:00-7:00pm | In-person and Zoom 
To attend in-person, HQ 207; Registration is required: https://forms.gle/2CfV1Qhe6jsSWqxT9, limited spots available. This option is only open to the Yale community only due to COVID restrictions.
To attend via Zoom: Register here
Nicholas R. Jones (UC Davis) is the King Juan Carlos I of Spain Center's (KJCC) Scholar-in-Residence at New York University. He is the author of the prize-winning Staging Habla de Negros: Radical Performances of the African Diaspora in Early Modern Spain (Penn State University Press, May 2019) and co-editor of Early Modern Black Diaspora Studies: A Critical Anthology (Palgrave, December 2018) and Pornographic Sensibilities: Imagining Sex and the Visceral in Premodern and Early Modern Spanish Cultural Production (Routledge, January 2021) with Chad Leahy. Jones also co-edits the Routledge Critical Junctures in Global Early Modernities book series with Derrick Higginbotham and is the new Editor-in-Chief of Caribbeana: The Journal of the Early Caribbean Society. Jones's research has been generously supported by the National Endowment for the Humanities and he is completing his second solo-authored monograph entitled Cervantine Blackness. Jones has also held visiting appointments at Georgetown University and New York University.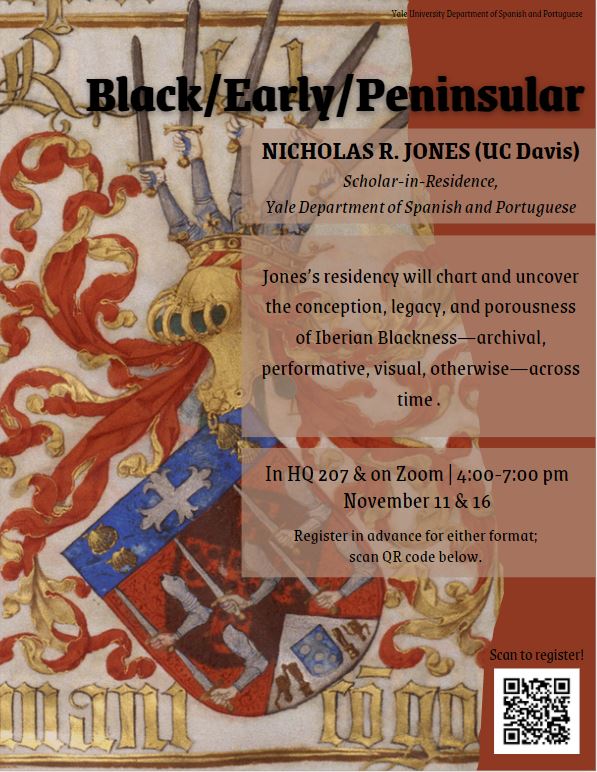 Event time:
Thursday, November 11, 2021 -

4:00pm

to

7:00pm
Tuesday, November 16, 2021 -

4:00pm

to

7:00pm