Register to receive the link here: https://flores_caidos.eventbrite.com/
Flores caídos written by Chayton Pabich Danyla, a senior project in Theater and Performance Studies
Flores caídos is the first production of the 2020-2021 Theatre and Performance Studies Curricular Season, presented in partial fulfillment of the requirements for a degree in Theatre and Performance Studies for Chayton Pabich Danyla. This production will be live streamed in order to be accessible to all members of the Yale Community and beyond. 
The research goals of this project are to directly engage in the social and political circumstances of Lorca's life/death in early 20th Century Spain, and then through translation reimagine Lorca in the 21st Century in a proudly Out and proud Latinx Production. Through extensive research in Translation, Racial Identity, Queer History, Elegy and Decolonization, this performance seeks to stands as a monolith to what theatre can be. 
This production was made possible through the generosity of Lorca Coffee Bar, and the Yale Departments of Theatre and Performance Studies, Classics, and Spanish and Portuguese.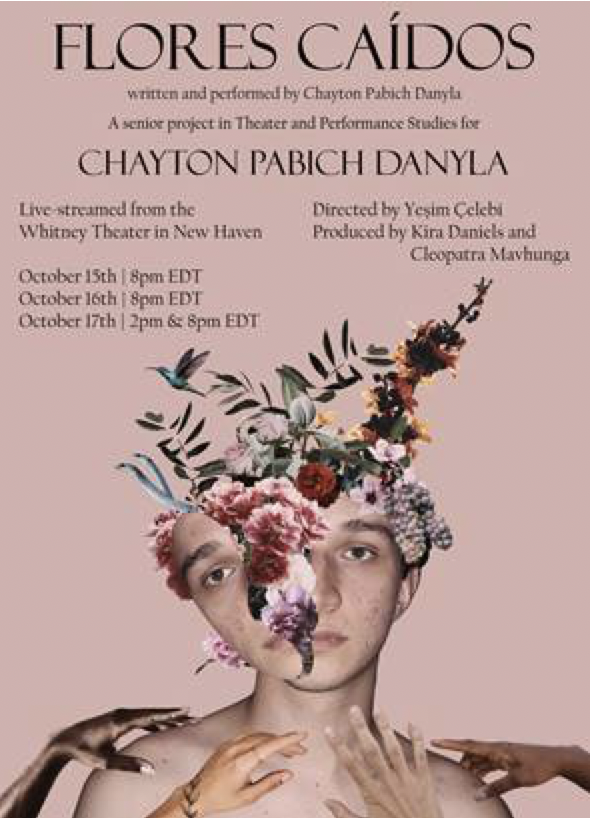 Event time:
Thursday, October 15, 2020 - 8:00pm
Friday, October 16, 2020 - 8:00pm
Saturday, October 17, 2020 - 2:00pm
Saturday, October 17, 2020 - 8:00pm