Sigma Delta Pi, the Hispanic Honor Society, warmly invites you to share in a night of Voces y versos, celebrating the resilience of the human spirit through written word read aloud. We are excited for an intimate time of shared favorite poems, scenes, and excerpts, and hope that you will join us on Tuesday, October 25th at 5:30pm in HQ 107 for a moment of reflection and hope.
Members of both Sigma Delta Pi and the University's Spanish department are encouraged to share aloud a selection of poetry, prose, or excerpt of a theatrical work in Spanish. The selection can be an original work or written by another author. We kindly ask that, if you decide to share, you let us know of your selection via the RSVP form by Tuesday, October 18th (the final day of classes before fall break): tinyurl.com/vocesyversos. 
Whether attending or sharing, please RSVP here by Tuesday, October 18th. All are welcome and encouraged to attend!
Contact information: 
Elisabeth Moore (elisabeth.moore@yale.edu), Alpha Beta Beta Presidenta 
Charlie Mayock-Bradley (charlie.mayock-bradley@yale.edu), Alpha Beta Beta Vicepresidente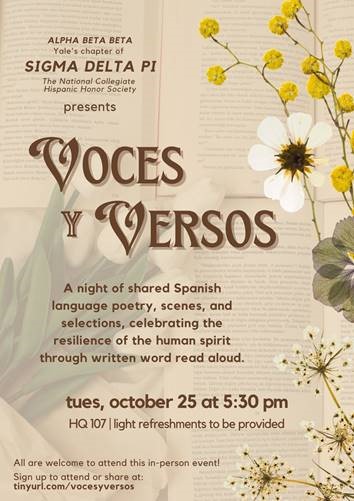 Event time:
Tuesday, October 25, 2022 - 5:30pm